Outro nome para o mesmo telemóvel

X310E, Eternity

Norma GSM

850 900 1800 1900

Dimensões (comp. x larg. x alt.)

131.50 x 70.70 x 9.90 mm

Ecrã

Colorido / Super LCD
16M Cores
480 x 800 px (4.70") 199 ppi
∼67.6% screen-to-body ratio

Autonomia de conversação

2G: 710 min. (11.8 h)
3G: 410 min. (6.8 h)

Autonomia em Standby

2G: 360 h (15.0 dias)
3G: 460 h (19.2 dias)

O carregamento da bateria rápida

O carregamento da bateria sem fio

Memória do livro de endereços

Memória do usuário final

12.63 GB

Sistema operativo

MS Windows Phone 7.5 Mango

Processador

Qualcomm MSM8255T

Velocidade: 1.50 GHz

Número de núcleos: 1

GPU: Adreno 205
INFORMAÇÕES ADICIONAIS
Sorry, additional information is available only in English.

---

BSI sensor. Video supported formats: .3gp, .3g2, .mp4, .m4v, mbr, .wmv (Windows Media Video 9 and VC-1). Micro-USB 2.0 (5-pin) port. SRS and 5.1 surround sound for video.
IMAGENS DESTE TELEFONE
CÂMERAS - DE VOLTA
Primeira câmera
Resolução de vídeo

1280x720
CÂMERAS - FRENTE
SENSORES
Scanner de impressão digital
TRANSMISSÃO DE DADOS
COMUNICAÇÕES E NOTÍCIAS
Protocolo de e-mail

POP3, IMAP4, SMTP
MULTIMÉDIA
Formato dos sons

AAC, AAC+, AMR, WMA, eAAC+
PIM E FUNÇÕES ADICIONAIS
Classificações: 99 | Visitas: 112991 | Populariedade: 0,01%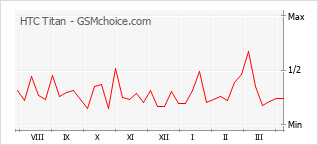 Traçar mudanças de populariedade do telemóvel
HTC Titan
Apesar que tentamos que toda a informação e especificações técnicas disponíveis em mGSM.pl estão corretas e atualizadas, não podemos garantir que estejam.Por isso, caso descubra um erro na informação apresentada, pedimos por favor
que nos informe.